At Sonic Automotive, we believe that buying a car doesn't have to be painful. Which is why, starting with our Charlotte stores, we've eliminated everything you hate about car buying and replaced it with an experience you'll love. Here is what you can expect from the all new Sonic Guest Experience, found at any one of our Charlotte locations. Our guests love it so much that we will soon be rolling it out to a store near you.

  
One, dedicated Experience Guide that takes you through the whole shopping and buying process from beginning to end. No bouncing around from one person or department to the next, which saves you time and aggravation.
  
 A car buying process designed around you with an experience guide that doesn't work on commission, so you won't be pressured to buy or pushed into upgrades.
The latest iPad technology at your fingertips to make the process transparent, streamlined, painless and quicker.

  
You can be in and out in one hour
or less with your Experience Guide taking you through selection, sales and financing on the iPad in what seems like no time at all.

    
  
Sonic Price save time shopping around, and feel confident that you're getting a great price!

 
 
A transparent service experience that lets you communicate with your technician and watch your car get serviced.

CAR SELLING THE WAY IT SHOULD BE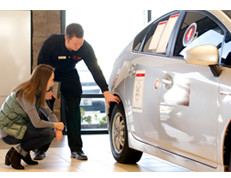 Selling your car should be a painless experience, too.
And that's the way we've made it at our Charlotte stores. No mysterious appraisers. No mysterious numbers. Together with your Experience Guide, you'll do a transparent evaluation and use the most advanced technological resources to arrive at your car's actual market value. Then, you can decide whether you want to sell it for cash or simply trade it in for a new vehicle.
Tip: to properly print the map, please enable "Print Backgrounds" in your browser's print settings.